Periodontal Disease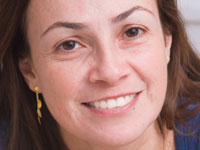 Which affliction is more widespread?
Terminal lovesickness
The heartbreak of psoriasis
The common cold
Not even winter colds (or Cupid's arrows) strike as many of us as gingivitis - gum disease. As many as 75% of adults will be victimized sometime in their lifetimes.
If this infection could grow on your arm, you'd be horrified. Instead, periodontal disease does its dirty work out of sight: inside your mouth. Left alone, it opens up gaps between gums and teeth. Too soon, you're on your way to losing your teeth entirely.
How can I stop it?
Mouth disease comes from sticky, invisible colonies of bacteria called plaque that live in the crevices between gums and teeth. Left by themselves, these critters organize to do their damage. If they're disorganized at least once every 24 hours, they never get time to recolonize and continue the infection.
Periodontal (gum) disease and gingivitis prevention is a matter of disturbing these bacterial pests daily. That means first brushing your teeth with a soft toothbrush. Then working dental floss down between the margin of your teeth and gums to dislodge plaque colonies that have built up during the day.
So much of your periodontal and gum disease treatment depends on what you're willing to do about your dental health. With vigilant home care and regular exams, together with your periodontist you can beat the statistics.
Gum Disease and Diabetes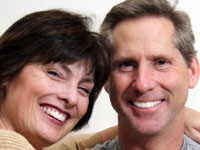 Periodontitis and diabetes are both chronic diseases that modulate each other. That is, they can exacerbate each other, each making the other more severe. Diabetes can have a negative effect on periodontal health and periodontal disease can increase the need for insulin in diabetics.
Periodontal Disease Has a Negative Effect on Diabetic Control
Periodontal disease is an infection that, like any infection, can make it hard to keep blood sugar under control. Increased blood sugar levels can result in an increased risk for diabetic complications such as harm to the eyes, nerves, kidneys, and other important organs. But studies have shown that treatment of periodontal disease can reduce the need for insulin in diabetics. So, by treating and controlling the periodontal infection, a person also is controlling insulin need and diabetes.
Poor Diabetic Control Has a Negative Effect on Periodontal Health
Compared to non-diabetics, people with poorly-controlled diabetes (those with blood glucose levels above normal) are more likely to develop periodontal abscesses and other oral infections. The longer someone has diabetes, the more likely they are to have periodontal disease. And if the person smokes and has poorly-controlled diabetes, the risk of developing periodontal disease is even greater.
Poor diabetic control can affect the gum tissue in two ways. One is the result of the thickening of the blood vessels that occurs with diabetes. This results in a reduction of oxygen and nutrient delivery to the tissues and a diminished ability of the immune system to fight infection, including periodontal disease. The second is because many of the bacteria that cause oral infection thrive on the sugar linked to diabetes (glucose). Poor diabetic control can actually feed the bacteria that cause periodontal disease.
Oral symptoms associated with poor diabetic control include:
Increased tooth mobility
Dry mouth that can increase the risk for ulcers, root cavities, and infections
Infections that take longer to heal and are more severe
These symptoms can all be managed with control of blood glucose and improved periodontal health. If the diabetes is well controlled and blood sugar level is within the normal range, the risk of developing periodontal disease is not greater than in people who don't have diabetes. On the flip side, treating periodontal disease reduces the need for insulin on people that have diabetes.
To prevent complications from periodontal disease and diabetes, it is important to maintain normal blood sugar levels and periodontal health. Follow the diet and medication guidelines supplied by your physician and see your dental care provider routinely for periodontal screenings and professional cleanings. Meticulous plaque control is critical. If you have diabetes, your dentist needs to know what your blood glucose level is before starting any dental surgical procedures, and although abscesses and acute dental infections should be treated as soon as possible, non-emergency dental treatment should be postponed until the blood glucose is well controlled.
By Laura Minsk, DMD