Increasing Gum Around a Tooth with Soft Tissue Grafts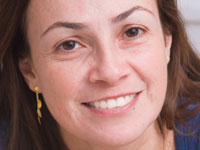 If an individual has gum recession as a result of periodontal disease, or has thin gums that need to be augmented before dental procedures, their dentist may recommend a soft tissue (gum) graft. The purpose of the gum graft is to cover exposed root surfaces and to increase the amount of gum around a tooth. It can be done to improve the esthetics of the gum line, prevent further recession, as preparation for other dental procedures (restorations or orthodontics), or to protect the tooth from root sensitivity and cavities.
A graft is the transplantation of living tissue from one part of the body to another. In the case of a gum graft, the tissue is usually taken from the roof of the mouth and placed on the exposed root surface. In some instances, it may be possible to move gum tissue from a site right next to the root surface or to use tissue donated from a different source. One or several teeth can be treated simultaneously.
Gum grafts have been done since the 1960's with exceptional success. The techniques have changed since then, making the procedures even more predictable, comfortable, and esthetic. Today it is possible to match the texture and color of the gum tissue with minimal scarring.
What to Expect from Periodontal Gum Grafts
Soft tissue (gum) grafts are done in the dentist's office with local anesthesia (lidocaine). After obtaining the donor tissue, it is secured on the recipient site with stitches (sutures) or tissue glue. The donor site (usually the roof of the mouth) may also require stitching, bandages, or tissue glue. Post-surgical discomfort is usually minimal and can be easily managed with commonly available over-the-counter medications such as aspirin, acetaminophen, or ibuprofen. Patients can expect to follow their normal routine the day after oral surgery. The dentist will provide special instructions related to diet, exercise, and medications.
The stitches are usually removed five to ten days after the surgery. Follow-up appointments are scheduled as necessary to evaluate healing and plaque control.
Benefits of Gum Grafts
Soft tissue (gum) grafts are beneficial to help reduce further gum recession and bone loss as well as to help protect the root surface from decay and sensitivity. In addition, a dentist should be consulted about gum grafting procedures if individuals have exposed root surfaces or long-looking teeth that create a cosmetic problem. If a general dentist does not frequently perform soft tissue grafts, he or she may refer the patient to a periodontist who specializes in this technique.
By Laura Minsk, DMD
Receding Gums Fixed With Periodontal Procedures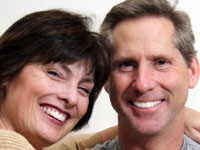 Not even the most beautiful teeth can look attractive if healthy and pleasing-looking gums do not surround them. That's because the gums frame the teeth like a picture frame frames a picture. To have a pleasing smile, the shape, color, and texture of the gums are just as important as that of the teeth they frame. Although tooth development, periodontal disease, trauma, or tooth loss can create esthetic gum deformities like receding gums, modern periodontal procedures can give individuals a smile to smile about.
Common Cosmetic Gum Problems
Unhealthy Gums
As a result of periodontal disease, a person may have red, shiny, or swollen gums. If an individual has gingivitis or periodontitis, the gums have to be periodontally treated prior to cosmetic dental procedures.
"Gummy Smile"
Teeth that appear too short may be normal-sized teeth hiding under too much gum. This can be the result of normal tooth development, or the use of certain medications that may cause gums to overgrow. Either way, a crown lengthening (see article "Crown Lengthening") procedure can help reveal the normal tooth structure.
Recession
If the teeth appear to be too long or if the root surfaces are exposed, it may be due to receding gums (see article "Recession"). Soft tissue grafting (see article "Soft Tissue Grafts") is very successful in correcting this problem.
Uneven Gum Margins
If the gum margins appear to be higher on some teeth and lower on others, this may be due to receding gums, altered eruption, or gum defects that resulted from tooth loss. The treatment of uneven gum margins may require crown lengthening, soft tissue grafting, ridge augmentation or a combination of these procedures.
Gum Indentations
After a tooth is lost, the bone that encased it disintegrates and the gum around it may collapse, creating an indentation where the tooth used to be. Ridge augmentation procedures can help correct this problem.
Uneven Pigmentation
Changes in the color of the gums may be part of normal gum development, or the result of scarring. Soft tissue grafts can predictably correct this problem.
Spaces In Between the Teeth
Periodontal disease can result in spaces in between the teeth that may appear like black triangles. These spaces can be very difficult to treat. They can be made less unattractive by a combination of procedures that include orthodontics (braces), crowns (caps), and/or periodontal (gum) surgery. The best way to avoid these spaces is to seek periodontal treatment in its early stages.
Missing Teeth
One or more missing teeth can be predictably replaced with the aid of dental implants. Dental implants can look and feel like natural teeth.
Changes in the appearance of the gums like receding gums can occur as a result of normal tooth development, periodontal disease, trauma, or tooth loss. By working with a restorative dentist who has expertise in cosmetic dentistry and through the aid of modern periodontal techniques, individuals can design a smile that is both aesthetic and youthful in appearance.
By Laura Minsk, DMD