Dental Disease And Ridge Augmentation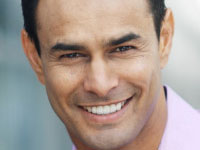 Whether a tooth has been lost to periodontal disease, tooth decay, or trauma, one may be left with a cleft, an indentation, or uneven gum margins. This happens because after a tooth is removed, the bone that was encasing it disintegrates and the gum around it collapses. If this occurs in the front of the mouth, it can result in an esthetic problem. No matter how well designed the replacement teeth are, they may appear to be too long and unattractive. To have a pleasing smile, the shape, color, and texture of the gums is just as important as that of the teeth they frame.
Ridge augmentation is a cosmetic periodontal procedure that may include gum and/or bone grafting. A dentist will determine which option is better suited to a patient's esthetic needs. Regardless of what treatment method a dentist chooses, ridge augmentation is a very predictable procedure with long-lasting results.
What to Expect from Periodontal Ridge Augmentation
Ridge augmentation is a surgical procedure that is done in the dentist's office with local anesthesia (lidocaine). Stitches (sutures) are placed to aid in healing. Post-surgical discomfort can last a few days and is usually minimal. It can be easily managed with commonly available over-the-counter medications such as aspirin, acetaminophen, or ibuprofen. Patients can expect to follow their normal routine the day after oral surgery. The dentist will provide special instructions related to diet, exercise and medications.
To ensure more esthetic results, ridge augmentation procedures should always be done before new crowns are made. Although a temporary (provisional) tooth replacement can be made at the time of tooth loss, the final restoration should not be fabricated until after six to eight weeks of gum healing.
Alternatives periodontal treatments
It is possible to help prevent collapse of the gum tissue by doing a bone grafting procedure or by placing an implant at the time of extraction. Although sometimes it may still be necessary to do further periodontal plastic surgery procedures, these treatments can help maintain the space that was previously occupied by the tooth and prevent bone loss. If this was not feasible, ridge augmentation can be done to improve esthetics after tooth extraction.
Ridge augmentation should be considered as part of an individual's cosmetic dentistry options when there are uneven gum contours, clefts, or indentations on the gums. The most beautiful teeth will not look natural if the gum surrounding them is not cosmetically pleasing. Talk to a dentist about esthetic concerns and the possibility of incorporating cosmetic periodontal procedures as part of a "smile lift."
By Laura Minsk, DMD
Gingivitis and Gum Disease Basics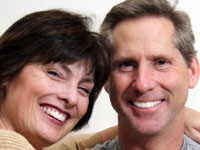 It afflicts as many as nine in ten adults at some point in their lives, as well as teenagers and children as young as five or six years of age. Yet, many suffer from it without even suspecting anything is wrong.
"It" is periodontal disease, or gingivitis - in the minds of most dentists, Public Enemy Number one for teeth.
Only for the last 30 years have researchers understood that gum disease is an infectious disorder, caused by many different species of bacteria. But even today, there is no cure. Fortunately, we have learned a good deal about what periodontal disease is and what can be done about it.
Behind the scenes
The culprits in gum disease are the bacteria that thrive in the crevices between gums and teeth, accumulating in the form of plaque, a hard, colorless film. Plaque produces toxins that not only irritate gums and cause bad breath, but can eventually attack connective tissue, bone and teeth.
These crevices become "pockets" where the bacteria lodge and begin to erode the tissues that connect gums with teeth. If periodontal disease isn't checked, the pockets deepen. The havoc spreads. Eventually, the bone around the teeth and roots is destroyed - and the teeth soon follow.
Sounding the alarm
How can you tell if you have a periodontal problem?
If you have bleeding gums or if you have swollen gums, gingivitis may be the reason why. But mouth disease can strike silently, without any pain or obvious signs.
Any bleeding from your gums should be a tip-off. Make sure you're doing a thorough but gentle job of brushing and flossing every day. If bleeding persists, it's time to see your periodontist. Different people have different levels of susceptibility to periodontal disease, and some forms - including those that affect children and adolescents - can develop quite rapidly.
Not everyone who has gingivitis disease goes on to develop more serious periodontal problems. Some people manage to reverse the disease or stop the progress of chronic gingivitis when it flares up.
Until there's a cure, the fundamentals of gum disease prevention - regular professional care and careful brushing and flossing at home - are still the best line of offense for good dental health.
Ways to fight back
Periodontal disease can be checked and often reversed with simple preventive measures: brushing, flossing and professional cleaning to remove plaque and stimulate gum circulation.
If the problem has become more serious, the dentist may do what's called scaling and planing - deep scraping of plaque from under the gum line, and smoothing of root and tooth surfaces so gum tissues have a better chance to reattach.
Promising new gum disease treatment is already on the horizon: antiseptic or antibiotic drugs placed at the site of infection. And new chlorhexidine mouthwashes that may help prevent the formation of plaque.